Home is a place where you come to seek comfort after a long and stressful day.  A home can only soothe your eyes if it is gorgeously painted, and neatly decorated, with fine walls, ceilings, and furniture.  Gray and white are the back drops choice for a majority of these color combinations we are seeing in the houses we are painting for 2019. Just glance at Benjamin Moore's color if the year  Metropolitan AF-690 a cool soft gray and you will see the possibilities are endless .Take a good look at all these interior color trends 2019 and pick a few to have Eason Painting come and paint your walls and ceilings this year.
1. Profound Berry Reds
If you take a look at home interior trends 2019, you will find that berry red shades add a ton of life to your room, so much that it's overwhelming!  This color is so energizing that its richness creates coziness and comfort in the home. Shop for Sherwin Williams Salute and also look at Borscht for a rich berry tone. 
2. Rich Subdued Purple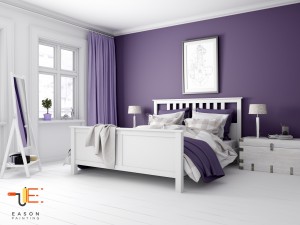 This ultra violet shade is one of the best interior color trends 2019. However, this year, the trend is to stick to muted and understated tones of purple that can fill you up with a dose of energy.  The toned down, and muted version of the color creates more diversity.  You can use Valspar Metropolis Lilac as a muted purple to paint your walls. 
3. Invigorating Aquas
The color aqua makes a bold and vibrant statement, and looks more charming if used in combination with soft pastels, and pinks.  It is a fun color for your walls, and adds a splash of power and humor.  This one is a sure shot winner if you talk about home interior trends 2019. You can select Aqua-Sphere SW 7613 by Sherwin Williams, to get this trendy color. 
4. Jewel Toned Shades of Aquamarines, Emeralds, and Sapphires  
Add a splash of color to your living room with jewel toned shades of aquamarines, sapphires, and emeralds.  You can even have kitchen drawers and cabinets painted in these shades.  You just have to balance between the different jewel toned shades and you will be good to go. Get Sapphire SW 6963 by Sherwin Williams to add a jewel-toned accent to your bedroom. 
5.  Rosy Neutrals and Muted, Dusty Blushes
Pastel colors are super trendy! Add a spatter of softer and more pastel pink shades, like rosy neutral, and dusty, muted blushes. These shades represent spirituality and innocence, and with orange lights on, your living room will feel like the coziest place in the world. Buy Orchid Blush by Valspar to follow the growing trend.
6. Misty Blues
Soft, hazy, and misty blues are so 2019! These hazy shades of blue are extremely calming and soothing and add real energy to your home.  They give you a sense of mental clarity, and keep you humble and grounded.  Misty Blue 820 from Benjamin Moore will have you achieve this look.  
7. Deep Jungle Greens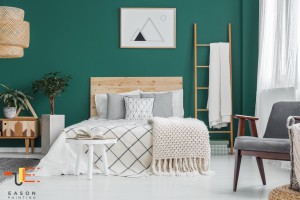 These deep shades of green help you heal inside. When you look at these greens, you automatically feel refreshed and re-invigorated.  The deep accents of greens cool your eyes and add freshness to your mind and senses.  Galley Green by Sherwin Williams will make you feel like your room is surrounded by nature.
Conclusion
These seven home interior color trends 2019 can seriously brighten up your home and make it look super classy and trendy. Try some of these and you will see how different and beautiful your house will feel and look. What ever color you decide to choice this year, just sit back relax and call Eason Painting to paint your interior bedroom, bathroom, kitchen or great room. You will not be disappointed!